I've been cooking up some party food in preparation for an Oscars party. I love me some movie award shows, so I get excited about the food-making, too. So far I've made these glittery chocolate-covered pretzels as a fun-looking sweet and salty dessert. But now it's time for something spicy, sweet, and savory.
These spicy apricot slow cooker meatballs are a great pairing since they're easy-to-nosh finger foods. You want to keep everyone focused on their Oscar ballots, so finger foods are rad. Plus, drinks — lotsa fizzy drinks to make the lulls in poor hosting easier. Just kidding, Chris Rock!
These spicy apricot slow cooker meatballs are pretty easy to make and a slow cooker/Crock Pot makes it that much easier to reduce the sauce into a rich glaze. You can sub in pretty much any flavor of jam/preserves, but I really love the combination of sriracha and apricot. It's an interesting twist on ye olde classic grape jelly and barbecue sauce.
I used this slow cooker, which is great because it comes with a small warmer to keep smaller portions heated. It's also super easy to clean.
The recipe is low carb/low sugar, but feel free to use any preserves, barbecue sauce, and brown sugar or honey that you like. Homemade jam is amazing. This is one of those awesome loosey-goosey recipes that has tons of flexibility in flavors and combinations. Make it low carb or totally embrace a little sugar.
If you're planning to serve these as an entrée, double the sauce so you have some ready for pouring. This amount is great for serving them as an appetizer on toothpicks.
Want more recipes in your life? Sign up to receive recipes via email and follow along on Facebook, Twitter, Pinterest, Instagram, Bloglovin, and RSS for all of the latest updates.
Spicy apricot slow cooker meatballs
Ingredients
Meatballs:

¾ lb. ground pork
¾ lb. ground beef
½ cup bread crumbs
½ cup onion, finely chopped
1 clove garlic, minced
½ tsp salt
½ tsp pepper
1 egg

Sauce:

1 jar (about 12 oz.) apricot preserves (I used sugar free)
¼ cup brown sugar (I used Splenda blend)
3 Tbsp Sriracha sauce
½ cup barbeque sauce (I used sugar free)
3 Tbsp apple cider vinegar
Instructions
Preheat oven to 400 F degrees.
Mix all the meatball ingredients together in a large bowl. Shape into 1 inch meatballs and place them on the prepared baking sheet lined with parchment.
Bake the meatballs for 25 minutes or until no longer pink inside.
While baking the meatballs, mix all the sauce ingredients together in a large bowl.
Toss meatballs in the sauce and pour into your slow cooker. Cook on low for 2 hours.
Once cooked, garnish with sesame seeds and serve warm.
https://www.bijouxandbits.com/2016/02/spicy-slow-cooker-meatballs/
This recipe is copyrighted to Bijoux & Bits
If you make this recipe, share a photo and hashtag it #BIJOUXANDBITS. I'd love to see what you're cooking!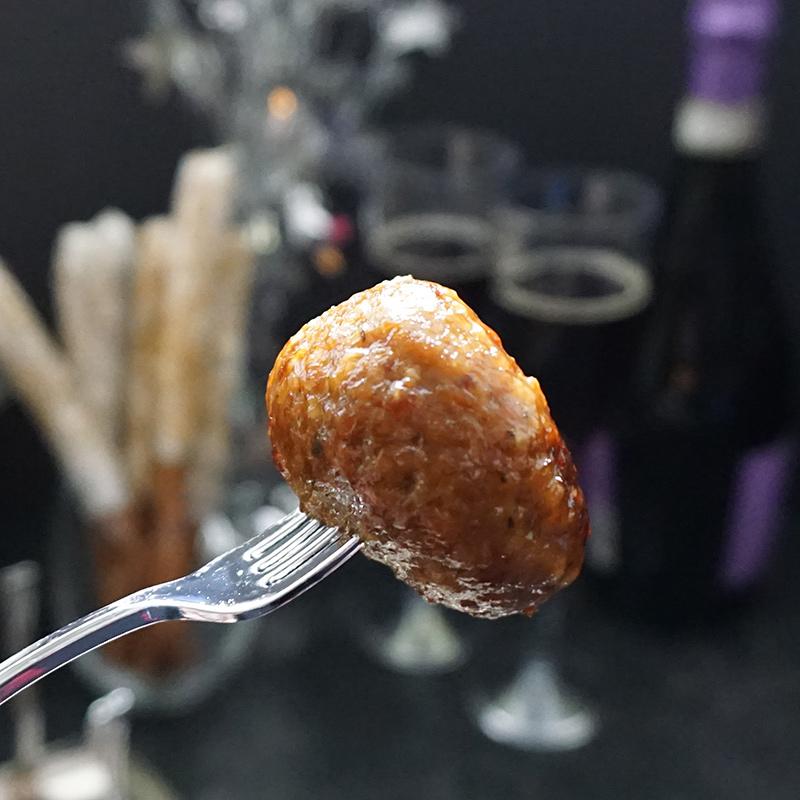 Recipe inspired by MelissaKnorris.com.