Thanksgiving feels like it's fast upon us this year, right? Once Halloween is over, it's full steam ahead planning the menu. I'll be posting my full Thanksgiving menu next week, but you can preview some of the highlights in my Thanksgiving archive.
I just posted a mashed cauliflower recipe a couple of days ago, so it's becoming "sides week" around here. But really, aren't sides the real highlight of Thanksgiving anyway? Turkey's rad, but have you even tried carrot and turnip mash?! Yum.That's why I'm psyched about this stuffing. This was actually round two in the attempt to perfect it, and I'm super pleased with the final version.
I decided to try out a cornbread version, and since I'm not making any homemade cranberry dish this year, I added some dried cranberries. My dad was pro at his sausage stuffing back in the day, so I added some of that, too. My original version wasn't quite sausage-y enough for my liking, so I ended up adding more. You can totally pare it down to 1/2 cup or none at all to keep things vegetarian if you like. It'll still be yummo.
If you're using fresh cornbread, feel free to leave it out on the counter overnight to get it a little stale. Otherwise check out the note in the recipe for drying it out a little before starting the recipe.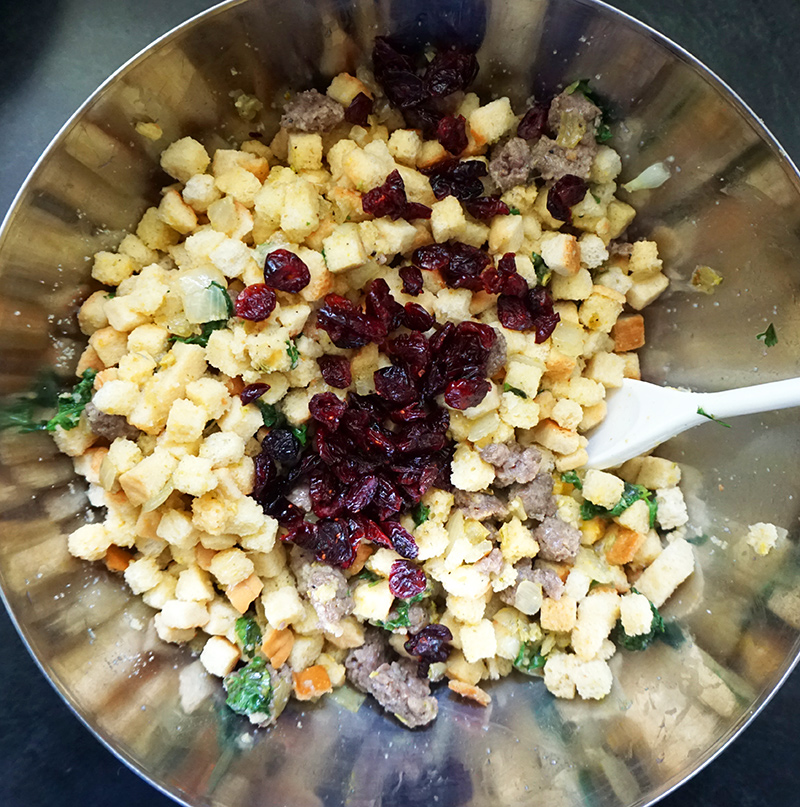 Want more recipes in your life? Sign up to receive recipes via email and follow along on Facebook, Twitter, Pinterest, Instagram, Bloglovin, and RSS for all of the latest updates.
Cranberry sausage cornbread stuffing
Ingredients
1 loaf cornbread, cubed (or 12 ounces pre-made cornbread stuffing cubes)
1 large onion, finely diced
3/4 lb ground pork sausage
3/4 cup dried cranberries
1 tsp fresh or dried sage (chopped, if fresh)
1 tsp fresh or dried rosemary (chopped, if fresh)
2/3 cup fresh parsley, chopped
Salt and pepper
4 eggs, beaten
2-3 cups chicken broth
1 Tbsp butter
Instructions
If your cornbread is fresh, preheat the oven to 250F and bake the bread cubes on 2 baking sheets for about 30 minutes. Toss them once while cooking.
Increase oven temperature to 400F.
In a large skillet over medium heat, saute sausage for 10 minutes or until it's cooked through, breaking it apart as it cooks. Remove from heat into a large bowl, but leave the grease in the pan.
Add onions to the skillet and saute for about 5 minutes until softened. Add in sage, rosemary, parsley, salt, and pepper and mix for 5 minutes. Remove from heat.
In a medium bowl, whisk eggs and chicken broth.
Add corn bread, onion mixture, and cranberries to the large bowl with sausage.
Slowly pour chicken broth and egg mixture and mix until combined. Add more chicken broth if needed to keep it from being too dry.
Spray bundt pan or casserole dish with cooking spray or grease with butter. Fill the pan with stuffing and press down to pack it into the pan.
Bake uncovered for 35-40 minutes.
Let cool for 30 minutes in the pan. Loosen the edges with a spatula or knife and flip onto a serving platter. If it breaks apart a little, you can usually reassemble it easily.
https://www.bijouxandbits.com/2015/11/cranberry-cornbread-stuffing/
This recipe is copyrighted to Bijoux & Bits