These Southwest egg rolls are a part of my recent series on ideas for Super Bowl parties. I've hit up some appetizer, snacks, sides, and dessert varieties. Here's what I've shared so far:
• Chocolate covered strawberry footballs (perfect spiral directly into mouth!)
• Three-cheese brown butter truffle macaroni and cheese (put face into bowl directly)
Bonus: these can also double as Oscar party grub, if you're more into movies than football. At least we're all into food, amirite?
Today I've got the last installment into Super Bowl foodie bonanza: baked Southwest egg rolls with avocado cream! These are absolutely inspired by the ones you get at Chili's (if you have that chain near you), although their sauce is a little different. I'm planning to serve these with the avocado cream (recipe below) AND some honey mustard dip.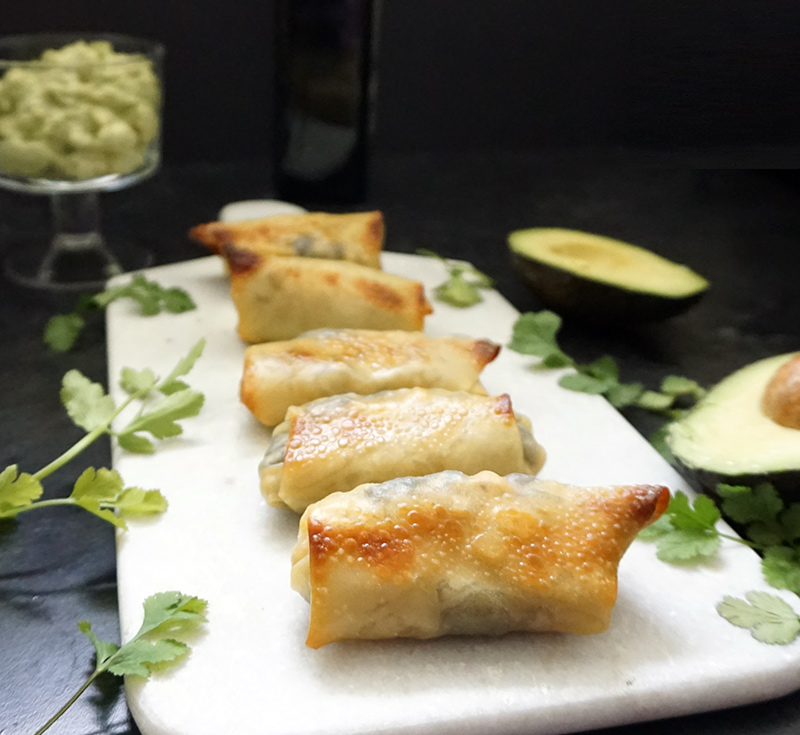 I get a super kick out of rolling wonton and egg roll wrappers. I don't know why, I just always think it's going to be challenging and it never is. Plus, you can put ANYTHING you want in them. Fill them with apple pie filling, Nutella, eggs, cheese, and tater tots — they're versatile.
The only tiny trick is getting the hang of how much filling to jam in there. Oooh, jam! Put jam and brie in there! *Evil laugh*
The avocado cream is very easy to make, though you can sub in plain smooshed avo, pre-made or homemade quacamole, ranch dip, onion dip… really any kind that would sort of blend with Southwest flavors.
The ingredients are pretty rad in that almost all of it can be kept in the cabinet until you're ready to make them. Other than the avocado, green onions, and fresh cilantro, you can have the filling at the ready for drop-in guests.
These Southwest egg rolls can also masquerade as an appetizer, an entree, a side, a snack, or pretty much any kind of nosh in which you have a need.
Want more recipes in your life? Sign up to receive recipes via email and follow along on Facebook, Twitter, Pinterest, Instagram, Bloglovin, and RSS for all of the latest updates.
Southwest egg rolls with avocado cream
Ingredients
2 cups frozen or canned corn, thawed
1 15 oz can black beans, rinsed, drained, and patted dry
1 9 oz package frozen chopped spinach, thawed and patted dry
1 1/2 cup shredded Mexican-blend cheese
2 green onions, chopped
1/4 cup cilantro, chopped
1 tsp ground cumin
1/2 tsp chili powder
1/4 tsp garlic powder
1 tsp salt
1/2 tsp black pepper
1 package (21) egg roll wrappers
1 egg, beaten, for sealing wrappers

Avocado cream dipping sauce:

1 avocado, mashed
1/4 cup Greek yogurt
1/2 Tbsp honey
1/2 tsp lime juice
1/4 tsp salt
1/4 tsp cumin
1/4 tsp paprika
1/4 tsp black pepper
Instructions
Preheat oven to 425 degrees F.
In a large bowl, combine all ingredients except for the egg roll wrappers.
Place 1/4 cup mixture in the bottom center of one egg roll wrapper, diagonally.
Fold up the bottom corner over the filling, then fold both side corners toward center. Continue to roll tightly.
Brush a small amount of the beaten egg onto the last corner and roll over to seal.
Repeat with remaining egg roll wrappers until the filling is used up.
Place rolls seam-side down on a greased baking sheet or onto a silicone baking mat (like this!).
Brush each roll lightly with olive oil.
Bake for 14-16 minutes until lightly brown. Turn them halfway through baking and coat with a little more olive oil.

Avocado cream dipping sauce:

Combine all ingredients in a small bowl until well blended. Serve immediately.
https://www.bijouxandbits.com/2016/02/southwest-egg-rolls/
This recipe is copyrighted to Bijoux & Bits
If you make this recipe, share a photo and hashtag it #BIJOUXANDBITS. I'd love to see what you're cooking!