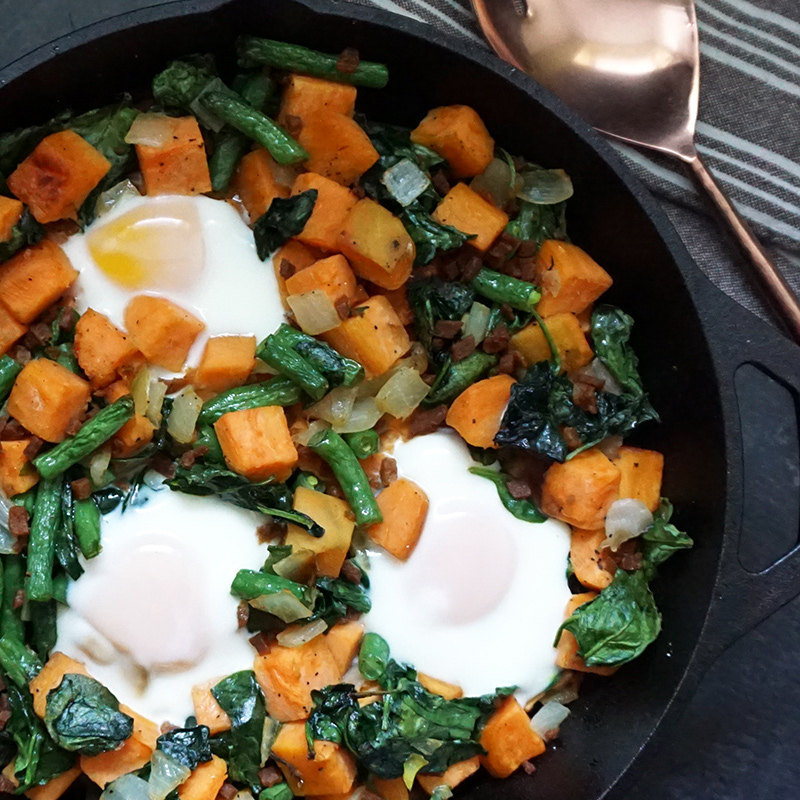 Another one-pot meal making my life! It's an easy-peasy recipe will become your go-to brunch meal when you're short on time. This sweet potato breakfast skillet combines everything I love: bacon, eggs, sweet potatoes, and any veggies you like.
I actually saved this sweet potato breakfast skillet as a breakfast-for-dinner meal, so feel free to put it into your dinner rotation if you prefer. As Ron Swanson knows, breakfast food is the best food.
I'm amassing an arsenal of one-pot meals since I hate washing dishes. Seriously. Here are some faves:
I've got another one-pot skillet meal coming up soon, too! Just wait, it's a doozy AND it's easy. I can't wait.
Feel free to lighten this dish up by omitting the bacon and replacing it with a little canola or coconut oil in the skillet. I mean, removing bacon is never recommended, but sometimes it has to be done. Or not. Ever. 😉 Unless you're vegetarian, in which case head here for loads of veggie-friendly recipes!
Either way, you can also double up on the veggies to pack in the nutrients.
Want more recipes in your life? Sign up to receive recipes via email and follow along on Facebook, Twitter, Pinterest, Instagram, Bloglovin, and RSS for all of the latest updates.
Sweet potato breakfast skillet
Ingredients
4 oz of cooked bacon, diced
5 cups diced sweet potatoes
4 cups fresh spinach
1 cup cut green beans (or any other veggies of your choice!)
1 cup chopped onion
3-6 large eggs
1 tsp salt
1/2 tsp black pepper
Instructions
In a 12-inch cast iron skillet (I use this one), cook the bacon pieces over medium-low heat until crisp.
Use a slotted spoon to remove the cooked bacon from the pan. Set aside.
Preheat oven to 400 degrees (F).
With the existing bacon fat left over in the skillet (or oil of your choice), increase heat to medium-high and add the diced sweet potatoes. Cook the sweet potatoes without stirring until the bottom of the cubes start to turn brown, about 5 minutes. Stir and cook until the cubes start to soften.
Increase heat to high and add the veggies to the skillet. Cook until the vegetables start to soften and get shiny.
Stir in bacon pieces. Remove from heat.
Make wells in the mixture, and break an egg into each well. Add as many as you like.
Season with salt and pepper.
Place skillet in the oven and bake for 10-12 minutes, or until the eggs are set.
Serve immediately and enjoy!
https://www.bijouxandbits.com/2016/05/sweet-potato-breakfast-skillet/
This recipe is copyrighted to Bijoux & Bits
If you make this recipe, share a photo and hashtag it #BIJOUXANDBITS. I'd love to see what you're cooking!