Hi, friends! I hope you're not nursing post-Thanksgiving turkey hangovers (or the real kind!). But if you are, I've got a remedy: Thanksgiving leftover sliders! Yep, we're taking all those leftovers and smooshing them onto sliders rolls to then smoosh into our gobs. Are you in?
This one may already be a staple in your household. I know it was in mine. Usually we made these assembly-style and ate them standing around in the kitchen or in front of the tube watching sitcoms.
My favorite post-holiday eating activity is a good board game, though it was always hard to get everyone away from football sometimes. I know, I know. The day is made for football. But the day after? That's made for Thanksgiving leftover sammies.
I've included a recipe for these Thanksgiving leftover sliders, of course, but really… this one's on your and the contents of your leftover fridge. Are you rocking ham? Mashed taters? Three kinds of stuffing? Green bean casserole? Pumpkin pie? Oh wait, that last one might not be great in a Thanksgiving leftover slider. I'll leave that up to you.
I used this recipe for the apple bacon brioche stuffing you're seeing layered in there. There may not be leftovers of this, though. It's goooood.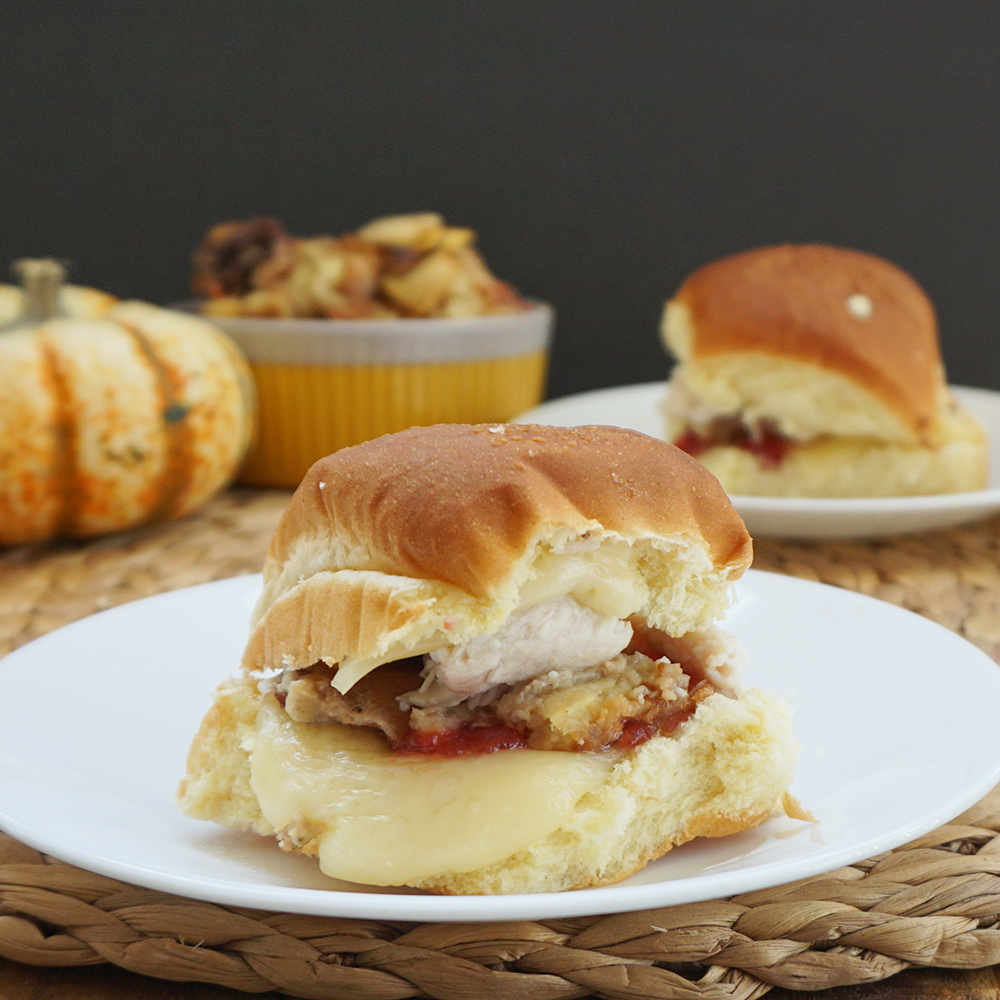 Want more recipes in your life? Sign up to receive recipes via email and follow along on Facebook, Twitter, Pinterest, Instagram, Bloglovin, and RSS for all of the latest updates.
Thanksgiving leftover sliders
Ingredients
4 slider rolls (such as Hawaiian, potato, brioche, or sourdough)
2 oz leftover roasted turkey, sliced or shredded
2 slices swiss, Gruyere, or cheese of your choice, halved
2 oz Thanksgiving sides such as stuffing (I used this recipe for brioche stuffing!)
1 Tbsp cranberry jelly
Optional: smear of mustard and/or mayonnaise
Instructions
Preheat oven to 350F.
Assemble sliders with halved cheese, turkey, sides, and a smear of cranberry sauce. Add additional mayo or mustard if desired.
Add sliders to an unlined 8x8" baking pan and bake for 10-15 minutes until the cheese is melted and the bread is toasted. Serve warm and enjoy!
https://www.bijouxandbits.com/2016/11/thanksgiving-leftover-sliders/
This recipe is copyrighted to Bijoux & Bits
If you make this recipe, share a photo and hashtag it #BIJOUXANDBITS. I'd love to see what you're cooking!